Cimes has supplied the two glazing lines and kiln conveyor lines for the new large-size tile production plant of Indian company Comet Granito Pvt. Ltd.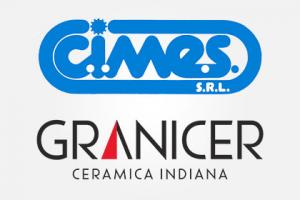 In the new large-size slab production plant started up by Comet Granito Pvt.Ltd (Granicer Ceramica) in Morbi (Gujarat) over the summer, Italian technologies take centre stage in the glazing department.
The Maranello, Modena-based company Cimes supplied two complete glazing lines equipped with the latest dry grit application systems.
The belt conveyor with a width of up to 2000 mm guarantees maximum flexibility in terms of production management compared to traditional conveyors, while the superior slab support provided during transport avoids the risk of bending.
Both the lines are designed to ensure optimal management and problem-free belt operation even in the event of high slab temperatures at the dryer exit. The equipment supplied by Cimes also included handling systems for feeding the kilns directly from both glazing lines.
Comet Granito's new plant has a production capacity of 8 million square metres/year of large size surfaces (up to "King size" 1200x3600mm and 1600x3200mm) and submultiples, with thicknesses of up to 20 mm. The Indian ceramic group is one of the largest local players and following the start-up of the new plant will have a total installed capacity of around 20 million sqm.