Total revenue increased by 22.9% to AED 3.52 billion during FY 2022, highest level since 2009, and reported net profit increased by 19.8% to AED 340.1 million, an all-time historical high full year performance.
RAK Ceramics (Ras Al Khaimah, UAE), one of the largest ceramics lifestyle solutions providers in the world, closed the fiscal year ended 31 December 2022 with record high full year performance. Total revenue increased by 22.9% YOY to AED 3.52 billion (approx. €900 million), reaching the highest level since 2009.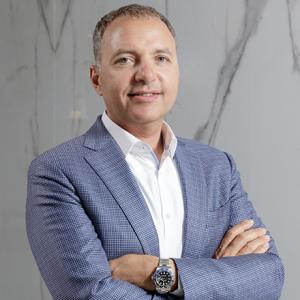 It was driven by robust core business growth in Tiles (AED 2.17 billion, approx. €554 million, up 11.0% on 2021), Sanitaryware (AED 551.0 million, approx. €140 million, up 4.1%), and Tableware (AED 353.2 million, up 38.9%), in addition to growth in Faucets on the back of Kludi consolidation since transaction closing on the 1st of June 2022 (+AED 276.5 million). The revenue from other non-core units saw a growth of 25.4% to AED 139.2 million, driven mainly by the company's ceramic raw material trading business.
The Ras-Al-Khaimah Group also achieved very positive results in terms of profitability. Total EBITDA increased by 15.1% to AED 577.2 million (approx. €147 million), and reported net profit increased by 19.8% to AED 340.1 million (approx. €87 million), an all-time record high performance in the history of the company.
"Notwithstanding the current macro-economic conditions marked by high inflation and persistent energy crisis, we have managed to achieve remarkable results", Abdallah Massaad, Group CEO, RAK Ceramics commented. "We have managed to maintain our gross profit margin level at 36.1%, mainly due to our improved production efficiencies and optimized utilization in 2022. Growth was hindered by further costs associated with Saudi Custom Duty, higher input costs and energy challenges; nonetheless, we are working hard to overcome these challenges and are already seeing hints of correction in some instances".
Tiles and Sanitaryware results by market
In the UAE, revenue increased by 19.7% in 2022. The strong performance was bolstered by solid market fundamentals: Retail expansion, launch of e-commerce, increased participation in international fairs, among other initiatives, resulted in further brand visibility and strengthened positioning.
In Saudi Arabia, revenue grew by 9.0%, driven by growth in retail and projects despite the 12% custom duty charges. The focus remains on offering premium products, securing mega projects and expanding the retail footprint.
In Europe, revenue increased by 3.5% (or by 14.5% in local currency). Given the slowdown in economic activity and albeit the applied price increases in 2022, the macroeconomic pressure weighed in on bottom-line performance; Q4 2022 financials, however, saw signs of relief, enabled by correction in exchange rates and decrease in freight rates.
In India, RAK Ceramics reported a revenue growth of 2.9% (or 9.3% in local currency). Efforts were maintained in expanding distributors' network and increasing retail presence via showroom openings. The performance remained solid, driven by growth in the top line and improved efficiencies, although hindered by rising input and energy costs.
In Bangladesh, revenue recorded a slight drop of 1.2%. The macroeconomic challenges and the currency devaluation impacted top line growth, as revenue is seen increasing by 8.8% YoY in local currency. Gas supply shortages experienced from the 17th of September till the 7th of December 2022 caused production disruptions, weighing in further on its bottom-line performance.
In the Middle East (excluding UAE and KSA), revenue increased by 22.2% mainly due to increase in brand exposure and growth in distribution network.
Expansionary projects
Operationally, RAK Ceramics continued to progress in its expansionary projects both in the UAE and on multiple greenfield fronts in Bangladesh (for tiles and faucets) and in Saudi Arabia (for tiles).
In the UAE, the tiles enhancement project is in progress and production is set to begin in Q1 2023 for 5 million square meters of gres porcelain tiles. The sanitaryware capacity enhancement has also been completed and production has commenced, with full utilization of additional capacity (260,000 pieces) planned to be reached by Q3 2023. The tableware capacity expansion of additional 10 million pieces is still underway, with commercial production estimated for Q3 2023.
RAK Ceramics (a publicly listed company on the Abu Dhabi Securities Exchange in the UAE) has a yearly production capacity of 118 million sq.m of tiles, 5.7 million pieces of sanitaryware, 26 million pieces of porcelain tableware and 2.6 million pieces of faucets at its 24 state-of-the-art plants across the United Arab Emirates, India, Bangladesh and Europe. Founded in 1989, the group serves clients in more than 150 countries through its network of operational hubs in Europe, Middle East and North Africa, Asia, North and South America and Australia.