A laboratory department devoted to physical and chemical analysis of materials used in the ceramic industry has been in operation at Main Laboratory for several months.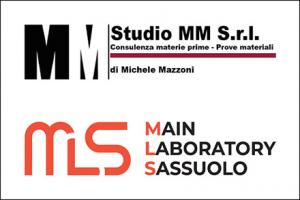 Studio MM of Parma and Main Laboratory Sassuolo, two accredited technological laboratories that have been working together since 2020 to offer the Sassuolo ceramic district a complete package of technological and analysis services for raw materials, semi-finished and finished products, have further strengthened their partnership. For the past few months, a Studio MM laboratory department specialising in physical and chemical analysis of materials commonly used in the ceramic industry has been operating at Main Laboratory's Scandiano site.
As well as carrying out tests on ceramic products (tiles, sanitaryware, tableware), adhesives, structural clay products and natural stone, Main Laboratory Sassuolo is also a well-established research and testing centre and an EU Notified Body. It has a wide range of instruments, mostly produced in-house, and a highly skilled technical team with more than a decade of experience in conducting specific, customised tests for improving the performance of products and production processes. It also offers training in the testing and inspection activities required for CE marking of tiles and adhesives, for UPEC testing (French quality mark for tiles) and for SASO and CCC certification (mandatory for exports to Saudi Arabia and China, respectively).
Studio MM has been analysing raw materials and industrial waste for more than 20 years and is now capable of playing a cross-disciplinary role within any development and testing project in the construction industry thanks to its state-of-the-art instrumentation and highly professional technicians. Through its R&D Centre, it has developed a variety of material engineering projects aimed at achieving industrial processes of the highest quality and environmental compatibility starting out from natural or recovered materials.