Italian research centre MECS-Acimac has published its new report on the Indian ceramic tile industry, which is the result of interviews with around 800 local companies, mostly based in the Morbi district.
According to IMF forecasts, the Indian economy is on course to grow by 6.1% this year and by 6.8% in 2024 and will outperform all other countries in terms of dynamism. India is also the country with the fastest social growth (in 2023 it will surpass China as the world's most populous nation). These are two key factors behind the projections of large growth margins in public and private construction and infrastructure and consequently in the consumption of building materials, including ceramic tiles.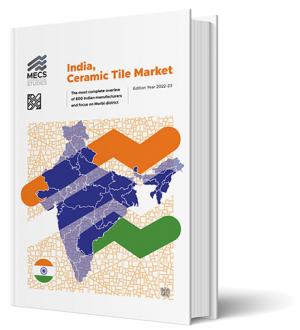 This macroeconomic scenario provides the context for the figures for the Indian ceramic industry collected by the MECS research centre and published in the report entitled "India, ceramic tile market". The aim of this first-ever edition of the report is to offer an insider's view of the market and to attempt to accurately measure the world's second-largest ceramic tile producer and consumer country as well as third major exporter in 2021.
→ REPORT "INDIA, CERAMIC TILE MARKET"
The analysis of the figures and companies in the Indian ceramic tile industry involved an eight-month-long study, for which purpose the MECS-Acimac research centre collaborated with tile producers in the Morbi district (in Gujarat) and home to 95% of India's ceramic tile producers. Questionnaires were sent to more than 800 Indian ceramic tile companies and over 500 responded, allowing the researchers to calculate the industry's total production capacity with an unprecedented level of accuracy as 3.3 billion square metres. Assuming a minimum production of the other small 300 businesses, MECS estimates that the total production capacity for the Indian ceramic industry is already in excess of 3.7 billion square metres.
Up until 2021, production increased at a CAGR of 8.6%, doubling since 2012 and reaching 2.5 billion square metres. In 2022, it is estimated to have slowed due to soaring energy costs, which forced several Gujarat producers to turn off their kilns for several months. However, the industry has more than 900 increasingly large and efficient production lines, corroborating the MECS research centre's forecast that India will reach a production volume of more than 3.7 billion sqm by 2026, thereby maintaining a year-on-year growth rate of close to 8%. Domestic demand will absorb about 70% of this output, while exports are set to exceed 1 billion square metres. Exports have experienced a dramatic growth in the last decade, increasing by a factor of 15, from just over 33 million sqm in 2012 to more than 483 million sqm in 2021.
This extraordinary development continued last year: based on the responses of leading Indian players, export share is estimated to have already reached 25% of total production and will soon exceed 30%. Much will depend on the dynamism of the domestic construction market, where total investments increased by 18% in 2021 and 10.8% in 2022, and are expected to exceed US $500 billion this year and US $600 billion in 2025, double the figure recorded in 2010.
Read more in the article published in Ceramic World Review 150