Inter Ser will be responsible for international distribution of spare parts for plants built by the former Manfredini & Schianchi, now part of Minerali Industriali Engineering.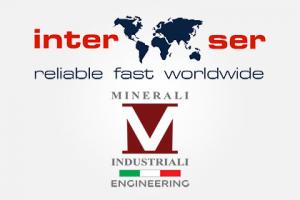 Inter Ser, a Vercelli-based company with logistics headquarters in Sassuolo that sells original spare parts and solutions for the ceramic industry, has signed a commercial agreement with Minerali Industriali Engineering (MIE) – the Minerali Industriali Group member company that recently acquired Manfredini & Schianchi – for the international distribution of spare parts for Manfredini & Schianchi branded equipment.
"We are delighted with this partnership with the Minerali Industriali group which enables us to further consolidate distribution of Manfredini & Schianchi products, a benchmark for the sector," commented Inter Ser's CEO Gian Luca Zanoni. "Many of their machines and mills are installed around the world, particularly in South America, a region where we have always had a strong presence."
Massimiliano Vulcano (CEO of MIE Operations) and Vittorio Costa (CEO of MIE Sales) were also very satisfied, noting that the partnership represents a perfect combination of MIE's plant engineering experience and Inter Ser's flexibility and dynamism.
Minerali Industriali, an international leader in raw material production, has production units in Europe, Asia, North Africa and Central and South America and posted revenues of €170 million in 2021.