The company is celebrating the anniversary with a series of initiatives, events and promotions aimed at customers, suppliers, employees and the local community.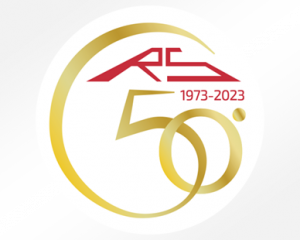 Refrattari Speciali, a leading manufacturer of ceramic rollers and cordierite products, is celebrating its 50th anniversary this year. The outstanding results achieved during this half century of history testify to the company's steadfast commitment to delivering state-of-the-art refractory solutions to a variety of industries worldwide.
Founded in 1973 in Roteglia (RE) by the brothers Donante and Romano Casolari together with Augusto and Romano Pellesi, the company began life as an artisanal producer of refractory components in a small garage. It initially produced sliding plates and saggars for single-firing, but subsequently added refractory supports for use in ceramic kilns. The company's forward-looking business vision has enabled it to evolve and earn a unique market reputation for innovation, quality and customer service.
In 1976, Refrattari Speciali moved to its current location in Castellarano (Reggio Emilia). Under the leadership of Marica Casolari and Roberto Pellesi, it has grown into an international business with a team of 40 highly qualified employees and a network of 15 agents responsible for promoting the unique value of Made in Italy in more than 28 countries worldwide.
"Our 50th anniversary is an important milestone and a moment of great joy and gratitude towards our customers, suppliers, partners and employees, some of whom have been with us since the company was founded," said chairwoman Marica Casolari. "Our success is due to this wonderful team who have supported us through the years with their unflagging commitment. We are looking to the future with enthusiasm and determination, ready to face the challenges that await us and continuing to deliver all the innovation and Italian-made quality for which our region is renowned."
Strong local roots, a sense of family and recognition of human values are the principles underpinning the company mission and shared by the entire organisation. The company remains strongly focused on its customers and provides them with tailor-made solutions, from consulting and design through to after-sales service.
One of the key strengths of Refrattari Speciali is its wide range of products and solutions characterised by high resistance to extreme heat, wear and corrosion, factors that make them suitable for use in a variety of industries such as ceramics, food, steel, cement and glass.
To celebrate the anniversary, Refrattari Speciali has organised a series of initiatives, events and promotions aimed at customers, suppliers, employees and the local community.