Presented by System Ceramics (Coesia Group) at Tecna 2022, Genesis opens up new potential for the production of slabs for furnishing applications requiring a three-dimensional effect.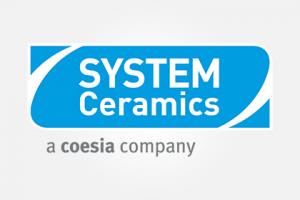 For the ceramic industry to go beyond existing standards and explore new synergies and opportunities, it will need critical capacity, vision and analysis, with technological evolution set to play a vital role in the process.
Drawing on more than 50 years of experience, Coesia Group member company System Ceramics has focused its research efforts on increasing the versatility and usability of ceramic products and entering new sectors such as furniture and design.
This has led to the development of Genesis, a solution that originates from traditional ceramic materials but evolves towards the segment of worktops, kitchen countertops and other furnishing applications where a three-dimensional effect is required.
The most unique aspects of Genesis are its fully digital management and its extremely versatile and integrable concept, enabling it to meet the technical requirements of today's slab production while guaranteeing unlimited aesthetic potential. Ideally sized for small installation spaces, Genesis integrates perfectly with the Superfast press and can be considered a kind of hybrid solution midway between a pressing device and a digital printer.
Genesis features a three-dimensional full-body decoration system with digital control of coloured spray-dried powder discharge (wet or dry coloured or speckled mixtures) at specific points on the slab according to the chosen graphic design. Its operation is based on the high-performance powder printhead, which has no moving parts and guarantees a high degree of reliability and a rapid response.
Genesis is installed at the infeed to the press belt, so it acts inside the thickness of the ceramic body as it is formed. Thanks to digital management of the application process, it is able to create effects that reproduce the aesthetics of high-end materials such as marble and natural stone while achieving enhanced overall design and superior technical qualities.
These standards are achieved thanks to the high degree of synchronisation with the decoration systems and consequently with the digitally applied graphic designs. This is a result of the perfect integration with the Creadigit Infinity digital printer, itself equipped with the advanced Creavision e-view system, and with the new Eye-tron which communicates with the printer in real time to allow for perfect synchronisation between the surface designs and the full-body effects. With this solution, System Ceramics has once again developed cutting-edge technology that enhances the aesthetics and commercial potential of ceramic surfaces for furnishing applications.
The development of Genesis also involved a major geodesign operation in collaboration with Tosilab, a design hub specialising in trend analysis. To enable the world's leading ceramic brands to enter a market with highly competitive products, System Ceramics has invested time and resources in analysing natural materials, their geological characteristics and the evolutionary processes that determine their veins and textures.
This preliminary investigation has enabled System Ceramics to present Genesis as a complete and effective technology that meets the needs of companies wishing to explore the three-dimensionality of ceramics and above all tap into its enormous commercial potential.