Energy efficiency, environmental sustainability and supply chain optimisation are a few of the innovative features presented by System Ceramics at Tecna 2022.
Energy efficiency, environmental sustainability and supply chain optimisation are a few of the innovative features presented by System Ceramics (Coesia Group) at Tecna 2022 (Hall B5, Booth 040).
It is no longer possible to imagine an industrial activity that is not sustainable, in other words a manufacturing process that focuses on conserving energy resources and cutting costs; that recycles raw materials to reduce waste and unnecessary consumption; that develops increasingly eco-friendly technologies; and that encourages the entire production chain, including employees and suppliers, to introduce and comply with sustainable measures.
At the same time, it is becoming increasingly important to monitor the supply chain closely in terms of its efficiency, effectiveness and sustainability.
System Ceramics is embracing this concept of a sustainable supply chain across all of its production sectors and in all of the technologies on display at Tecna '22.
Digital glazing and decoration
In the field of digital decoration, the Creadigit Infinity printer delivers unprecedented computing power based on the latest generation of electronics developed by the System Electronics business unit. It is also extremely environment friendly. The use of water-based inks reduces emissions by between 40% and 50%, improves the quality of the air and the working environment, and ensures a longer machine lifetime with less need for maintenance. High levels of performance are also guaranteed by the possibility of integrating Creadigit with the Creavision e-view advanced vision system and Eye-tron, a new solution that communicates in real time with Creadigit to allow for perfect synchronisation between the surface design and the full-body effects.
The success of digital printing has also revolutionised the glazing line. One of the most significant new solutions showcased at Tecna 2022 is DigiGlaze, the digital machine for glazing ceramic surfaces designed and patented by Tecno Italia, a company founded in 1994 and now part of System Ceramics as Tecno Italia Digital. DigiGlaze allows for highly detailed glazing by ensuring maximum control of the glaze flow rate and application process. It is also highly sustainable and brings a significant reduction in emissions and waste, glaze savings of up to 35% per year, and a very low environmental footprint due to the elimination of the spraying process and the need for an extraction system.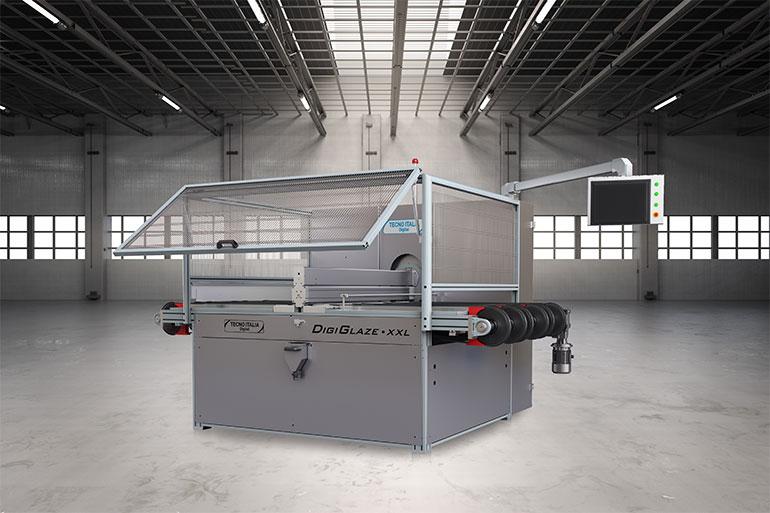 Added to these innovations are the benefits provided by Genya, the piece tracking system based on proprietary software and hardware. Genya is able to coordinate the printing process between machines located at different points on the production line, helping to optimise production and overall process times while avoiding raw material wastage.
From Genya's functions as a synchroniser, sequencer and instantaneous collector, the next step is the ultimate expression of digitalisation with Hypermate powered by Prime. This software service platform was specially developed to enable the information flows of entire plants to be organised with a high degree of integration and connectivity, while bringing considerable benefits in terms of lower energy and raw material wastage.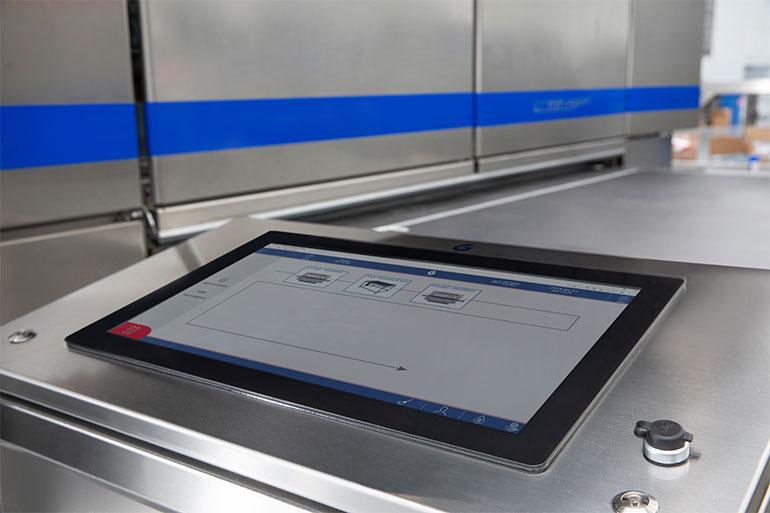 Pressing and drying
Superfast is the most highly regarded pressing technology thanks to the flexibility of its zero-waste mouldless process (the raw material is 100% recovered in the press) and one of the lowest levels of energy consumption in its class (0.1 kWh/sqm). This flexibility is enhanced by Fastcut technology with the unfired cutting module, which adapts to the shrinkage behaviour of spray-dried material. This not only improves production quality but also leads to significant savings in raw materials, energy and gas.
Tecna '22 will also see the official presentation of Fastdry, the first horizontal multi-channel dryer. Designed to use hot air originating from the kiln cooling zone to keep the modules at the correct temperature, Fastdry minimises emissions and the use of thermal energy from natural gas combustion.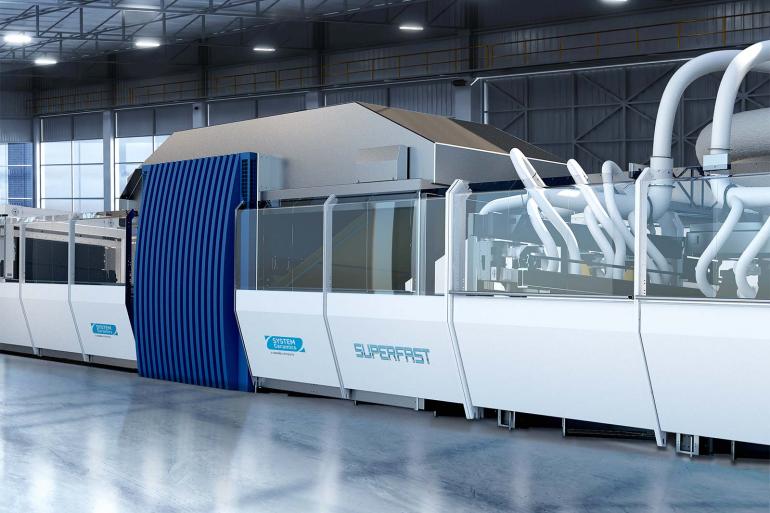 End-of-line automations
System Ceramics has also developed a number of green solutions for the end-of-line stage. The first, called Falconslab, is a compact new automatic palletising system for handling large ceramic slabs from 800x1200 mm up to 1800x3600 mm. It is a smaller, lighter machine that consumes less energy and requires less maintenance.
Next, the Multistore solution for automatic fired material handling on pallets features a new loading and unloading gripper concept based on the patented arm handling system, which moves more material while consuming less energy. Moreover, it has an almost entirely steel and aluminium construction that makes it 30% lighter than conventional machines.
Cartonstrap replaces the plastic strapping machine with the exclusive use of cardboard, resulting in savings of around 2 million metres of plastic strap per year per production line.
In a further addition to its environment-friendly product range, System Ceramics is also presenting the brand-new Sidewrap, an independent and compact advanced wrapping system complete with portioner which minimises the quantity of cardboard used and consequently reduces costs by around 30%. The double corner protection option also avoids the need for plastic corner supports, bringing significant ecological benefits.
In short, the development of sustainable innovation is benefiting numerous sectors in terms of industrial processes and the environment as well as improving finished product quality.
Last but not least, System is presenting a revolutionary new technology for the ceramic sector aimed at the pressing and digital decoration processes. Called Genesis, it is a three-dimensional full-body decoration system with digital control of the coloured spray-dried powder discharge process installed on the press loading system. Genesis takes ceramic slab manufacture beyond the frontiers of current technology, embracing natural stone production using full-body digital technology.