The Italian ceramic industry has posted exceptional 2021 results, including a 21% year-on-year increase in total revenues to €7.5 billion. As always, the lion's share went to the tile sector, which registered sales of almost €6.2 billion (+20% on 2020 and +15.4% on 2019), including €5.2 billion earned from exports.
The Italian ceramic industry, consisting of a total of 263 companies with 26,537 employees and activities spanning tiles, sanitaryware, tableware, refractory materials and bricks, posted a record total turnover of €7.5 billion in 2021, up 21% on 2020 and 14.5% on 2019. This represents an approximately €1 billion increase in sales in the space of two years.
This is the picture that emerges from the Confindustria Ceramica National Statistical Survey unveiled during the Annual Members' Meeting held on 15 June and confirms that the industry has returned to – or in the case of several indicators, exceeded – pre-pandemic levels. The results suggest that a structural recovery is in progress, albeit threatened by the now infamous problem of soaring costs.
The ceramic tile industry
The ceramic tile and slab segment remained the dominant force within the Italian ceramic industry and saw strong improvements in all its indicators.
Production climbed to 435.3 million sqm, the highest level since 2008 (+26% on 2020 and +8.6% on 2019).
Total sales were even higher at 455.3 million sqm (+16.5% on 2020 and +11.9% on 2019), prompting manufacturers to draw from warehouse stocks. These volumes had not been seen since the financial crisis of 2008 and were attributable partly to the resurgence of the previously sluggish Italian market but above all to exports.  After more than ten years of stagnation, domestic demand has finally picked up due to the strong recovery in building and renovation activity. As a result, domestic sales of Italian tiles reached 91.2 million sqm (+24.4% on 2020 and +9.2% on 2019), one fifth of total sales.
At the same time, exports surged to 364 million sqm (+14.6% on 2020 and +12.6% on 2019), the highest level seen since 2007. Exports to the European Union performed particularly strongly with sales of 218.5 million sqm, up 12.6% on 2020.
Thanks to larger sales volumes and higher average prices, the Italian ceramic tile producers recorded a total turnover of €6.17 billion in 2021 (+20% on 2020 and +15.4% on 2019), including €967 million generated in the domestic market (+34% on 2020, +16% on 2019) and €5.2 billion from exports (+18% on 2020 and +15.3% on 2019), another all-time record. At the end of last year, the average selling price on the domestic market had risen to 10.6 €/sqm and export price to 14.3 €/sqm, about twice as high as the major Spanish companies and almost three times as high as Turkish competitors. It is worth remembering that the Italian ceramic tile industry is the world leader in terms of export value, accounting for more than a quarter of the total value of global tile import-export flows.
Another indicator that saw a strong recovery in 2021 was investments, which bounced back almost to 2019 levels following the natural slowdown in 2020 caused by the Covid-19 pandemic, reaching €350.6 million (+73% on 2020) or 5.7% of the sector's total turnover.
Finally, it is worth noting that along with the turnover generated by the 131 companies operating in Italy, a significant portion of revenue (more than €900 million) also derives from international manufacturing operations. A total of 15 foreign companies controlled by 9 Italian groups produced 90 million sqm of tiles in their factories in Europe and North America, most of which was sold on their respective domestic markets.
Flexible decision-making amid confidence and concerns for the future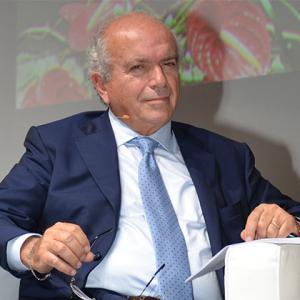 As we have been saying repeatedly for many months now, alongside the exceptional demand for tiles in both the Italian and international markets we are seeing an equally extraordinarily explosion in the cost of production factors, which is jeopardising the sector's international competitiveness and having a major impact on companies' margins.
Giovanni Savorani, re-elected Chairman of Confindustria Ceramica at the association's Members' Meeting for the two-year period 2022-2023 with 99.6% of votes, commented on these two opposing trends.
"During this unique moment in history we are facing great uncertainty and a rapidly accelerating pace of change due to a multitude of factors that are entirely outside our control. This means it is very difficult to make forecasts and requires us to be very attentive and flexible in our day-to-day decision-making. What is certain is that sales continued to see double-digit growth in the first half of 2022 and all companies in our industry are rushing to keep up with the pace of orders. The analysts are warning about a potential slowdown in demand in the second half of the year, mainly due to as yet unpredictable factors relating to the course of the war in Ukraine. But as long as the market continues to perform so strongly, we remain confident that in 2022 we will be able to maintain last year's results while also gradually recovering the exorbitant additional costs we are facing."
Giovanni Savorani also gave an initial estimate of these additional costs.
"The increase in the price of natural gas alone will add an extra €900 million to the sector's bills on top of all the other increases we are facing: wooden pallets +224%, packaging +180%, plastics +120%, maritime freight rates up fivefold, raw materials costs as much as 50% higher than those of materials from Ukraine, and skyrocketing ETS tariffs. All of this will result in additional costs of around €1.6 billion. Clearly, there is only limited potential to pass these increases on to prices, and this is placing enormous strain on company margins."