The Italian machinery manufacturers' sales grew by 39% to €2,056 million in 2021, including strong performances in both the domestic market (+31%) and exports (+42%). Acimac's newly elected chairman Paolo Lamberti commented: "We feel very confident. 45% of our member companies are expecting further business growth this year."
The Italian ceramic machinery and equipment manufacturing sector posted extraordinary growth in 2021 despite soaring raw material and energy costs and the continued impact of the Covid-19 pandemic. Turnover exceeded €2 billion (€2,056 million, up 39% on 2020), returning to levels close to the all-time record of 2017 (€2.24 billion). This strong growth was driven by both the domestic market (sales up 31.2% from €393 million in 2020 to €515.4 million) and exports.
In 2021 there were 138 active companies in the sector (one less than in 2020). The industry's workforce increased by 3.8% compared to 2020 to a total of 7,212 employees, in line with the peak level of 2018.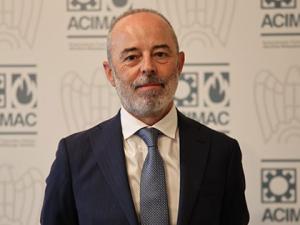 These figures were contained in the 30th National Statistical Survey published annually by the MECS - Acimac Research Centre and announced during Acimac's Annual Members' Meeting, held in Villa Marchetti in Modena on 28 June. During the Members' Meeting, outgoing chairman Paolo Mongardi also officially handed over the reins to his successor Paolo Lamberti.
"The last two years have been very challenging and have seen dramatic changes in the market," commented Paolo Lamberti. "However, the 2021 figure demonstrates our ability to deal with complex situations. Despite the ongoing geopolitical crisis, our industry worked hard last year to react positively to the difficult situation, increasing its employment figures and returning to the turnover levels of 2017. We feel very confident, as is also demonstrated by the data from the sector's latest Economic Monitor revealing that 45% of Italian companies are expecting to see an upturn in business over the coming months."
International markets
Exports have always been the sector's key strength and picked up rapidly in 2021 following a three-year decline. Export sales reached €1,541 million (up 41.8% on 2020), accounting for 74.9% of total revenue. All geographical areas experienced sustained growth, with the sole exception of China.
The European Union remained the largest market for Italian ceramic machinery with sales of €421.8 million (+41%) and a 27.4% share of total export turnover. Asia (excluding China) ranked second with a value of €272 million (+68.6%) and a 17.6% share, followed by Central and South America with sales of €215.8 million (+55%). Italian ceramic machinery exports also produced excellent performances in the Middle East (+63.5%), Eastern Europe (+54%) and North America (+35.5%), while exports to Africa remained stable at 2020 levels (an increase of just +0.7%).
The only area to experience a decline was China, with sales down 3% on 2020 to €97 million.
Client sectors
From the breakdown of turnover among client sectors it can be seen that the ceramic tile industry maintained its dominant position in 2021 and accounted for 86.8% of total turnover (a 46.1% increase in revenues compared to 2020).
Sales to the brick and roof tile industry increased by 9.1% to €98.3 million, followed by sales to the sanitaryware industry (€89.9 million, up 26% on 2020).
Turnover by machinery type
The shares of turnover generated by the various machinery families varied significantly in 2021, although the ranking of the top three categories remained unchanged. Forming machines reached a turnover of €449.5 million (almost 22% of the total), marking an exceptional +70.4% compared to 2020. Raw material preparation plants ranked second (€315.1 million, +31.3%), followed by finishing equipment and diamond tools (€279.1 million, +28.6%).