From 18 September to 6 October, the group will open the doors of the bt-Space for the FUORISALONE. The group will also be present at Cersaie and Marmomac.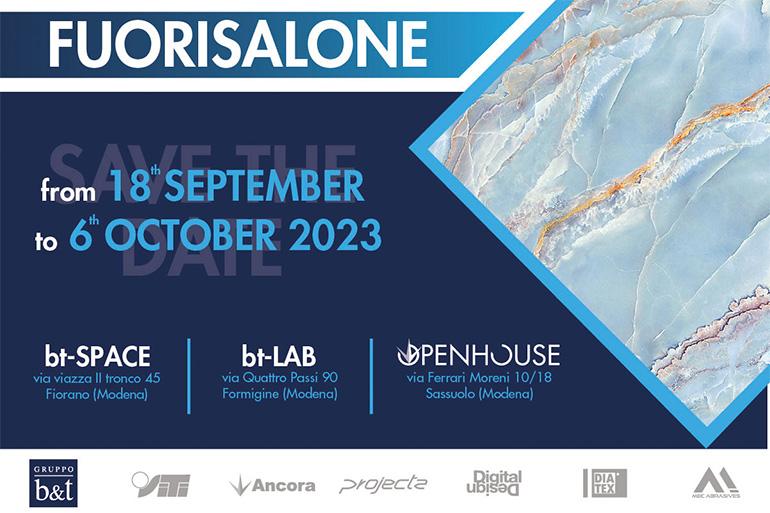 Gruppo B&T has a packed schedule of events planned for September, as it opens its doors from 18 September to 6 October to present its latest technologies to customers. Many of these technologies have been installed in recent months at factories in Italy and abroad.
The first event on the calendar is the sixth edition of the FUORISALONE, which is taking place in the bt-SPACE in Ubersetto. In a magnificent setting enhanced by a display of exclusive finished products, visitors have the opportunity to admire the most important solutions developed by the nine group member companies, including the brand new PRO PLUS digital printer from Projecta and the highly reliable automatic spindle mounted on Ancora's TORNADO squaring machine.
The bt-LAB in Formigine, which serves as the technological hub of Gruppo B&T's R&D activities and features 5 operational pilot lines, will also be open for guided tours (booking required). These tours will focus on two technologies: the SUPERA® mouldless pressing line for traditional tile sizes and large slabs; and a preview presentation of the VENUS, LAPIS and DUNE ceramic aesthetic effects technologies.
The tour will culminate with a visit to the Open House event at the Sassuolo site of Ancora, a longstanding company within the group which specialises in ceramic finishing lines. At this event, guests will have the opportunity to view the TORNADO squaring machine and the MATRIX and POWERLUX lapping, polishing and supergloss treatment products, all of which are manufactured in-house. The Ancora Open House will provide a preview of an exclusive event scheduled for October, where a brand-new technology will be launched.
The three-week programme will also include an event called B&T Quartz SPECIAL aimed at customers in the agglomerated quartz sector and focusing on a complete system that has already been adopted by leading players in the industry. The system includes the bt-TWIN slab-forming line and the Q-Art Line for digital decoration, the only one of its kind in the world. Guests attending this event will also have the opportunity to book a tour of the bt-LAB to view the technology in operation and participate in an exclusive experience offered by B&T Quartz.
Last but not least, the programme includes the trade fairs CERSAIE (Bologna, 25-29 September) and MARMOMAC (Verona, 26-29 September) devoted to the ceramic and natural stone sectors, respectively.
Gruppo B&T will be present at Cersaie through Digital Design (hall 33, booth C34-D23), the group's graphic design studio, and Diatex and Mec Abrasives (hall 31, booth B17), a manufacturer of diamond and abrasive tools.
Diatex and the B&T Quartz division will also be present at Marmomac (Hall 7, Booth E4) with an additional space dedicated to agglomerated quartz products.