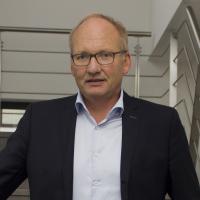 Interbau-Blink is a historic German company based in the small town of Ransbach-Baumbach in the Westerwald region, famous for the high quality of its clay quarries.
The company's location guarantees not only access to the best ceramic raw materials but also economic sustainability of supplies due to the short transportation routes.
The company's main business is the production of extruded ceramic floor and wall tiles with a wide range of accessories aimed at both residential and architecture segments, including collections for swimming pools and special projects.
In early 2014, the company's management began to evaluate a possible expansion of its production range by entering a totally new and innovative segment, i.e. large ceramic panels manufactured using the latest revolutionary pressing technologies.
The final decision was made in September 2016, when Interbau-Blink and System Ceramics signed the contract for the supply of a complete plant for the production of panels in sizes up to 1600 x 3200 mm.
We met Michael Dickopf, CEO of Interbau-Blink, who explained the characteristics and objectives of the new industrial project.
Read the interview with Michael Dickopf published on Ceramic World Review 119/2016.