From 26 September to 3 October will organize a multi-location event to share product and process-oriented innovation with customers.
The product first and foremost, this will be the underlying philosophy of the coming edition of Tiles Open Week, to be held by Sacmi from 26 September to 3 October on the occasion of Cersaie 2023.
As per tradition, the company will open its doors to customers to illustrate the latest technological developments as part of its continuing focus on the ceramic product and the technologies needed to make it. A new feature of this edition will be the involvement of all the main Sacmi facilities that do research on ceramic products and processes: the Tiles Lab in Imola, the Digital Lab in Salvaterra di Casalgrande, which focuses on decoration, and the Sacmi Forni&Filter R&D Lab.
What's more, BMR will also welcome visitors, as well as the new Stylgraph gallery, which partners with Sacmi to identify the latest design trends.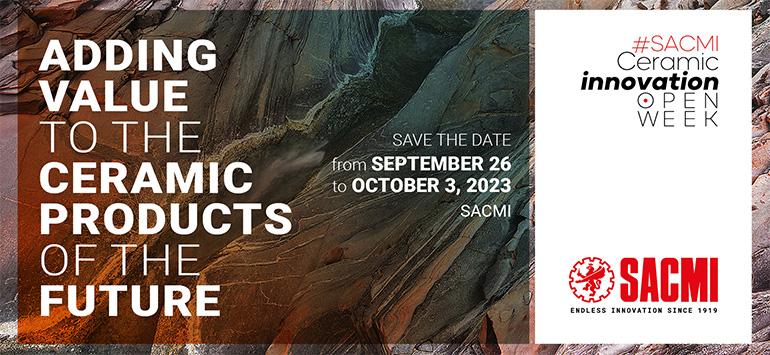 The latest 'full-body' decoration developments, which offer perfect coordination between tile/slab surface and body, form the heart of the 2023 Tiles Open Week. This technological revolution - which ranges from Deep Digital decoration to forming and is amplified by smooth digital coordination of every involved device - is bringing out the best in ceramic products and opening up new application areas for them.
To be specific, customers will have a great opportunity to visit the further-expanded Imola Laboratory, a unique product development, testing and know-how facility. Here, among other things, live demonstrations will give visitors a first-hand look at the potential of the latest solutions, such as new filling devices on the Continua+ family of machines. At the same time, customers can assess products on the Deep Digital line at the showroom of the SACMI Digital Lab, fully operational since 2022.
BMR - now a fully fledged member of the Sacmi family - will, instead, offer a tour that focuses on ceramic product finishing, squaring and polishing.
The 2023 Tiles Open Week will also focus on sustainability, which is a must for success. That's why, in Salvaterra, Sacmi Forni & Filter will open the doors to its R&D facility, which performs tests and advanced research on hydrogen-fuelled and fully electric kilns.
The world's leading researcher in this field, Sacmi aims to guide the ceramic industry through the energy transition by providing innovative kilns and driers (already available) that can run on new clean fuels and other systems (cogeneration, trigeneration, heat recovery) that improve the factory's energy balance. A key tool for achieving sustainability is digitalization: this can have huge benefits for process control, ensuring consistent quality and smart management of production flows. It's a field packed with innovation: for example, traditional controls (size, flatness, density, edges, etc.) can be improved through process feedback mechanisms (i.e. upstream machines can self-correct automatically when a defect occurs).
And that's not all: Sacmi's advanced customer support takes the form of new maintenance plans, plus software and digital platforms that can monitor plant performance, share machine data, provide proactive maintenance management and track products.
Throughout the event, Sacmi's team of experts will be on hand at all the locations to explore topics of interest. To sign up now simply contact your sales representative.