The world ceramic industry will meet in Rimini from 27 to 30 September. All the leading suppliers of technology, equipment and services will be participating in Tecna 2022.
We're almost there. In about two months' time, from 27 to 30 September, Tecna 2022 will be back as an in-person event in the Rimini Expo Centre following a four-year absence (the 2020 show was cancelled due to the pandemic). Organisers and exhibitors alike are now hard at work gearing up for an exhibition that has always been considered the world's leading showcase of technology for the ceramic and brick industries and which has now been rebranded as Tecna, International Exhibition of Technologies and Supplies for the Surfaces Industry.
With its completely new layout covering a total of 70,000 square metres in 14 halls in the east wing of the Rimini Expo Centre (accessible via two entrances), Tecna 2022 will also stand out for its new sections and theme routes, a wider and more multidisciplinary programme of conferences, and new events.
But Tecna will also maintain a sense of continuity, particularly in terms of its range of technology offerings thanks to the participation of all the most important companies in the sector, including 30% non-Italian exhibitors mainly from Spain, Turkey, Germany, China, Portugal, France, Switzerland, the Czech Republic, Greece and the United States.
Their task will be to present the results of the hard work they have carried out in the field of innovation over the last four years, a period of profound change that is set to revolutionise the future of industrial manufacturing of ceramics and other surfaces.
The show is also expected to attract large numbers of customers. This is not just because industry professionals are keen to meet up again after the four-year hiatus, but because there continues to be very strong global demand for technological investments in all sectors of the ceramic industry, particularly tiles, sanitaryware and heavy clay. This demand is driven by different factors according to the type of company and geographical region. For some it is the need to increase volumes and productivity; for others to begin manufacturing operations directly in their target markets; for others still to reposition themselves in higher product and market brackets. But almost all companies, at least in the more mature markets, need to adapt rapidly to energy transition policies and to today's more complex production and market scenarios caused by cost, supply chain and logistics pressures.
This race to adopt new technologies is a shared characteristic not only of the longstanding ceramic industry players who are regular visitors to Tecna but also of new visitors, many of whom will be attending the show as part of the Business Meeting programme organised in cooperation with the Italian Trade Agency ITA. This year the delegations of buyers taking part in one-to-one meetings with exhibitors will be from Argentina, Bangladesh, Chile, Colombia, Ethiopia, Kazakhstan, Mexico, Mozambique, the Dominican Republic and Vietnam.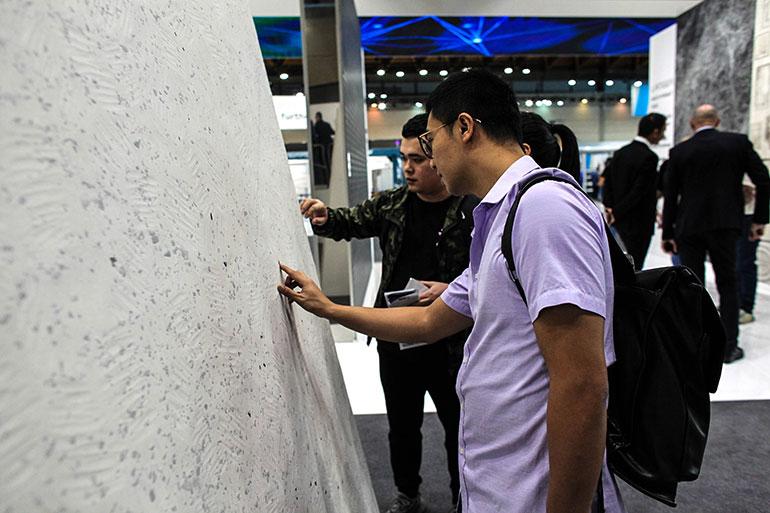 Events and conferences
Automation, digitalisation, sustainability, environment and safety, along with product design, aesthetics and functionality are the keywords that will be echoing around the stands and through the events organised by Tecna 2022.
One of these is Tecna Future Lab, a special project focusing on the world of Industry 4.0 with an exhibition area in Hall D5 for companies operating in the fields of IoT, Edge computing, Cloud, AI, Industrial software, Robots & Cobots, Motion Control, Additive Manufacturing, Industrial Networking, Cyber Security, Circular Industry & ESG, and Servitization. The adjacent area will be reserved for innovative start-ups and the Future Arena, a space hosting technical workshops on Industry 4.0 topics, institutional conferences and events proposed by the exhibiting companies.
Aesthetics and design will be the topic of discussion at the Decortech Conference focusing on new surfaces, while the challenges of the future for the ceramic industry will be the subject of the opening conference entitled "How to Make the Future: Visions and Challenges", featuring talks by institutional figures as well as managers from leading international ceramic companies.
The theme of this year's technical conference – organised by Acimac and Tecna in cooperation with Ceramic World Review – is "Sustainability in Ceramics". The first session will explore the theme of "New frontiers of hydrogen: challenges and opportunities in Europe", with talks by representatives of ENEL and plant manufacturers already conducting research into the use of hydrogen as a fuel for thermal machines. This will be followed by technical presentations from exhibiting companies operating in the field of green technology, from energy saving to recovery and recycling and the circular economy.