After introducing AI platforms into its automatic systems, Cosmec is taking the big step towards the new Digital Twins and Industrial Metaverse communication processes.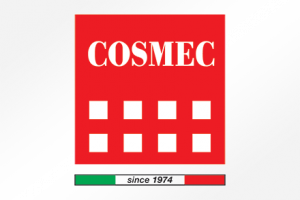 Modernising production capacity, increasing flexibility, reducing time-to-market and creating greater efficiency are all goals that can be achieved by merging the physical and digital realms, bridging the gap between the real and virtual worlds.
The transition to Industry 5.0 is marked by the emergence of the Industrial Metaverse, a digital world where real-world industrial challenges are tackled through data-driven solutions. This virtual environment allows for the rapid identification, analysis and resolution of issues, and ideally, the anticipation of problems before they occur. This shift offers significant benefits in terms of time, cost savings and productivity.
At the core of the Industrial Metaverse is the concept of the digital twin, which simulates the behaviour of a physical asset in various situations. For example, when faced with temperature fluctuations or malfunctions, the digital twin responds just as the real asset would. It can also carry out tasks concurrently, such as design, development, and review of new components, which would traditionally be done sequentially. This evolution transforms the Internet of Things (IoT) into the Internet of Twins as digital twins from different industrial sectors interconnect, forming expansive operational ecosystems.
This new paradigm allows people from different regions to collaborate as if they were physically present in the same location, working on the same machines.
For businesses, this transition presents both challenges and opportunities. It promotes innovation, accelerates time-to-market, reduces waste, and conserves natural resources. Ultimately, it leads to greater efficiency and contributes to the dematerialisation of economies.
Digital Twins and Industrial Metaverse are the new communication methods
In line with these trends, Cosmec is also adapting. The Verona-based company has been integrating artificial intelligence into its automated systems for some time, aiming to replace human involvement in tasks like quality control for roof tiles, cladding materials (such as ventilated facades and split tiles) and rectified blocks, and handling non-compliant or unsuitable brick scraps that conventional automation systems are unable to manage.
However, the company is now undergoing another transformation by embracing new communication methods like Digital Twins and the Industrial Metaverse. These are virtual programs that enable users to simulate work scenarios across all production departments, allowing for advanced planning of intervention strategies and strategic decisions. This approach allows testing of future scenarios within factories while machines continue working based on predefined cycles, eliminating the need to halt production. This offers significant advantages in terms of time and costs, as simulations can be conducted without any disruption to production.
Thanks to the Industrial Metaverse, Cosmec will create precise replicas of its clients' operational plants, expanding the capacity to simulate changes and tests in 3D without affecting machine operation. This will enable manufacturers to analyse industrial processes, thereby increasing operational efficiency while reducing the risk of errors and malfunctions.
For global corporations with a strong commitment to continuous improvement, for whom Cosmec is a major supplier, the use of Digital Twins technology in the Industrial Metaverse enables real-time production monitoring and the scheduling of preventive plant maintenance.
"Our customers are increasingly requesting enhanced plant flexibility, virtual diagnostics, predictive maintenance and prompt access to production data," commented Mirko Rorer, sales manager at Cosmec. "The industrial metaverse provides real-time supervision, enhancing the agility of industrial operations and the quality of production."
A scenario is unfolding where professionals worldwide can connect to a common virtual space, enabling them to interact with production systems and receive instant feedback, with the ability to make adjustments as needed. This digital frontier will bring about numerous benefits, including advances in training. Companies will no longer have to gather their workforce together physically, eliminating the need to divert technicians from their ongoing tasks. Instead, they can utilise digital replicas, leading to substantial time and cost savings.