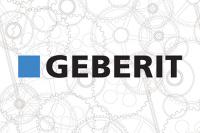 In 2018 Geberit posted consolidated sales of CHF 3,081 million (+5.9%), 5.7% growth in EBITDA and net income of CHF 626 million (+3.7%). It has also performed strongly in the first quarter of 2019.
Geberit Group, a Swiss sanitaryware giant listed on the SIX Swiss Exchange, further consolidated its European market leadership with strong growth in 2018. Consolidated sales rose to CHF 3.08 billion (around 2.75 billion euros), 5.9% up on 2017 (the sum of the +3.1% growth in local currencies and a foreign currency effect of +2.8%).
The group also reported strong profitability indices. EBITDA, equivalent to 28.2% of sales, reached a record level of CHF 868 million (+5.7%) thanks to higher sales volumes and average price increases, greater process efficiency and the positive effects of the closure of two sanitaryware plants in France in 2017), which compensated for higher raw materials and personnel costs. Operating profit (EBIT) adjusted for one-off costs relating to the Sanitec acquisition in 2015 increased by 5.4% to CHF 744 million, while adjusted net income rose by 3.7% to CHF 626 million, with an adjusted return on sales of 20.3%.
All three business areas contributed to the sales growth. The Installation & Flushing Systems product area saw 4.9% growth in sales to CHF 1,133 million; the Bathroom Systems product area remained stable at CHF 1,020 million (+0.1%), accounting for one third of sales revenue; the Piping Systems product area also performed well, growing by 4.3% to CHF 920 million.
The group led by CEO Christian Buhl has a total of 29 production facilities, of which 6 are located overseas, and 11,630 employees in around 50 countries. At the end of 2017, Geberit Group ranked third amongst world producers in the ceramic sanitaryware segment.
In 2018 Geberit reported good sales growth in all its key markets, particularly in Europe which accounts for 90.9% of sales (CHF 2.8 billion, +2.8% on 2017). Outside Europe, strong demand in China and India fuelled double-digit growth in the Far East/Pacific region (+13.9% to CHF 100 million), which overtook America (CHF 99 million, (+3.5%) and the Middle East/Africa (CHF 84 million, +1.4%).
Geberit Group continued to invest strongly in 2018. A total of CHF 78 million (2.5% of sales) was allocated to new product R&D, while CHF 162 million (5.3% of sales) was invested in tangible and intangible fixed assets, plant and equipment, mostly aimed at production capacity expansion and plant modernisation. The biggest investments in the ceramic sanitaryware segment concerned the plants in Kolo (Poland), Bromölla (Sweden) and Slavuta (Ukraine).
Forecasts for 2019
Geberit maintained last year's strong performance in the first quarter of 2019. Sales grew to CHF 830 million (+0.9% year on year) and margins also saw strong growth, with EBITDA up 6.3% (31.6% of sales), EBIT up 5.8% and net income up 4.9% (23.1% of sales). However, there were significant differences between the performances of the various product areas. Sales continued to grow in the product areas of Installation & Flushing Systems (+5%) and Piping Systems (+7.5%), while the Bathroom Systems product area saw a 1.6% contraction.