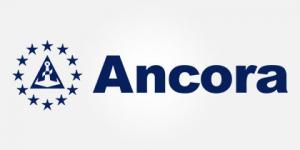 Through its tireless R&D efforts and collaboration with leading international ceramic tile producers, Ancora has developed a series of top-performance and extremely competitive technologies and patents for each step in the finishing process.
These solutions stand out in particular for their high yield per square metre and high level of synergy between processing plants, machines and accessories, resulting in a complete ceramic end-of-line process tailored to the specific needs of each individual company.
Cutting and dry squaring
The dry cutting, splitting and squaring lines are complete high-performance solutions.
Combining dynamism, continuity and rapid size changes, Nostop Cut is the ideal pre-cutting, scoring and splitting system for sizes up to 180x360 cm and is capable of producing strips up to a size of 15 cm.
The more compact and versatile Combi Cut provides an exclusive two-in-one solution for sizes from 60x60 cm up to 120x250 cm and is ideal for cutting up to 6 pieces at a time. This technology, which is also available for large slabs, is fully automatic and programmable and can work with thicknesses from 3 to 20 mm with a high degree of efficiency, even in the case of tensioned products.
Ancora's flagship DrySquaring machine is an advanced and highly automated engineered system. As a result of continuous technology upgrades, it embraces the concepts of Smart Factory and Industry 4.0, bringing numerous advantages in terms of energy savings, eco-sustainability and reduced production costs. Along with semi-automatic spindles, Ancora has developed a new HMI panel with an intuitive and accessible touchscreen and an automatic laser system for intelligent management of the squaring process. At the machine entrance, a pair of lasers determine the size of the ceramic piece and automatically communicate the dimensions to the tool based on the machine settings. A set of lasers are also located at the exit of each spindle to allow for continued calibre control and to automatically set the scale, position and wear of subsequent tools. Finally, a dedicated laser also ensures the correct removal quantity and wear compensation of each spindle.
This plant is located at the exit of the kilns and brings major logistical benefits and added value by eliminating the different calibres that are traditionally handled in the warehouse.
Honing and polishing
Another solution is Wet Polishing, a honing and polishing line that can mount up to 24 heads with double oscillating bridges on a single module. Each of the heads has a front panel for controlling the working pressure and tool consumption, as well as allowing for rapid tool changes.
This solution brings clear advantages in terms of the double independent bridges controlled by programmable brushless motors and the high-performance machining heads, recognised for their high precision, durability and sensitivity. The end result is an efficiency of around 98-99%.
Ancora has also developed Flexy, an innovative polishing head with variable geometry designed to improve the uniformity of the glossy finish, reduce tool consumption and increase flexibility during polishing. It is a highly accessible patented system, based on a new tool arrangement in the head and designed to resolve the complexities associated with the flatness, convexity and concavity of large ceramic slabs, a common problem that is currently dealt with manually by operators.
Ancora also has a pickling line which prevents acid damage, cleans uniformly removing all traces of stains and avoids the formation of rings.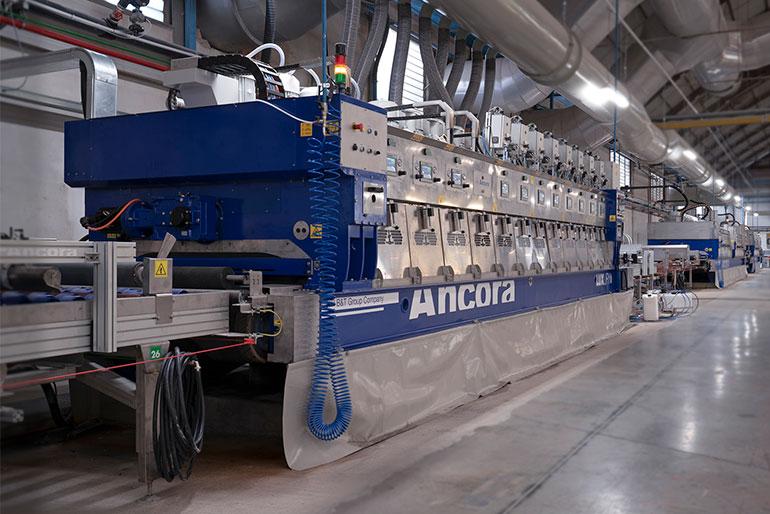 Treatments
Luxury, another solution for optimising the aesthetic qualities of ceramic products, is a high-gloss technology that enhances the tile's graphics by means of a surface treatment guaranteeing a high level of gloss and protection. Lapping, finishing and treatment are the three steps in this high-performance and highly flexible technology, which not only creates a surface finish ranging from 20 gloss (for a matt effect) to 110 gloss (for a glossy effect), but also gives the finished product a high level of resistance to abrasion and acid stains.
Supervision and Customer Care
Ancora also provides complete maintenance services, assisting customers by means of the Ancora-TUTOR supervision software which allows for monitoring, data collection, predictive maintenance and control of the entire plant. This way, all the machine's working levels communicate through a user-friendly interface via both mobile devices (which can be assigned to the operator along the line) and remote stations for more general control of the production process. This technology is designed to provide even more efficient support to manufacturers the world over in terms of process optimisation, plant implementation and efficiency improvement.