Two new robotized glazing booths are now up and running at full capacity at the sanitaryware production plant in Trishal, increasing production output to approx. 300 pieces per workshift.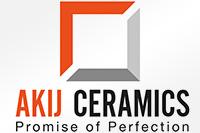 Following the first successful investment made in 2016, Akij Bangladesh has chosen to increase its Sacmi robotized glazing solutions installing two new RobotGlaze modules bringing to 3 the total number in operation at the sanitaryware production plant located in Trishal, north of the capital Dhaka.
Akij is a long-standing customer of Sacmi with numerous investments and projects in the Tiles, Sanitaryware and Tableware sectors. These latest solutions, already successfully commissioned, ensure a decisive increase in production to reach 250-350 glazed pieces per workshift, according to the models.
Each module supplied includes a 4-position carousel and glazing booth with wet filter and the well-known MassControl® system for the control of the flow-rate and quantity of glaze applied. The robot with 8 spraying axes, a latest-generation Sacmi-Gaiotto GA2000 model, is equipped with self-learning software and has been configured to allow transfer of the existing robot's glazing programs. In this way it is possible for the new solutions, commissioned in record time, to reach full capacity production immediately.
From the point of view of sustainability, the stations have been provided with equipment for recovery of raw materials, thanks to the filter which directs excess glaze to the collection tank. Each spraying booth is provided with a high-capacity suction system (13000 m³/h), enabling 100% overspray recovery.
This project is just one more step for Akij which has further important projects on the horizon both for casting and for additional expansion of the robotized glazing lines.